Lighting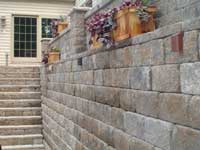 Retaining wall with built-in lighting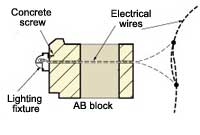 retaining wall light through block face
Lighting brings new possibilities to any landscape. Add a dramatic look with ground mounted lighting or illuminate stairways and pathways with recessed lighting. Allan Block walls with decorative lighting fixtures provide not only a distinctive design, but adds safety and security to the landscape.
Allan Block's patented hollow core block design makes it easy to add lighting into any wall. Simply run the wiring directly behind the AB blocks (follow local electrical codes) to the light locations. Depending on the light fixture you have chosen, you may need to use a masonry saw to cut out sections of the block to accommodate the lighting fixture and run the wiring through the blocks out to the light fixture.
Where do I Find Outdoor Lighting?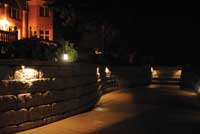 Retaining wall with built-in lighting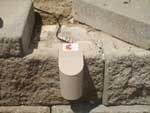 retaining wall light fixture
A wide variety of outdoor lighting options can be found on the market today. Depending on the type and style your landscape needs will determine what lighting options are best for your project. Standard lighting options can be found at your local hardscape dealer, visit our dealer locator for more information.